Specialized S-Works Turbo Levo Frameset 2022
Die vierzigjährige Leidenschaft, die bestmöglichen Mountainbikes zu entwickeln, führte Specialized zum neuen Turbo Levo. Dieses Bike setzt neue Maßstäbe in puncto Fahrgefühl, Zuverlässigkeit, Anpassungsfähigkeit und Konnektivität. Es vereint 160/150 mm Federweg, eine progressive Geometrie, eine ausgeklügelte Motorunterstützung und die fortschrittliche MasterMind Turbo Control Unit, um dir ein atemberaubendes Fahrerlebnis zu bieten.
Hole Dir jetzt den Specialized S-Works Turbo Levo Fahrradrahmen und stelle Dir dein perfektes E-Mountainbike selbst zusammen!
---
Leistung und Komponenten des Specialized S-Works Turbo Levo Fahrradrahmens 2022
Das neue Turbo Levo verkörpert alles, was Specialized über das Mountainbike in den vergangenen Jahren gelernt haben – die perfekte Kombination aus abgestimmtem Fahrwerk, Federung, Geometrie und Motorunterstützung, die sich zu einem unglaublichen Trail-Fahrerlebnis summiert. Es ist das lebendigste und wendigste 4x Du E-MTB, das Specialized jemals entwickelt haben.
Die MasterMind Turbo Control Unit (TCU) ist im Wesentlichen das "Gehirn" des Bikes. Es ist die Hard- und Software, die steuert, wie der Motor, der Akku, das Fahrrad und du interagieren. Sie ermöglicht Echtzeit-Support-Tuning während der Fahrt und zeigt alle relevanten Daten über dein Fahrrad und deine Fahrt an. Die MasterMind TCU ermöglicht auch Over-the-Air-Updates, damit dein Fahrrad mit der Zeit immer besser wird. Darüber hinaus kann die MasterMind TCU mit deiner Mission Control App kommunizieren, um erweiterte Tuning-Möglichkeiten, On-Trail-Diagnosen und mehr zu ermöglichen.
Das neue Turbo Levo verfügt über sechs Geometrieeinstellungen, die eine einfache Anpassung an deinen Fahrstil ermöglichen und die Performance in jedem Gelände verbessern, von einfachen Waldautobahnen bis hin zu technischen Singletracks. Du hast die Wahl: Entscheide dich für einen der drei Steuerrohrwinkel und variiere die Tretlagerhöhe dank des Flip-Chips am Horst Link.
Mit seinen 160/150 mm Federweg ist das neue Turbo Levo für alles gerüstet. Es bügelt über kleine Unebenheiten hinweg und verschlingt grobe Stöße, ohne dich aus der Bahn zu werfen. Trotz erstaunlichen Ansprechverhaltens bringt dieses Bike deine Kraft mit absoluter Effizienz auf den Trail.
S-Sizing ist eine Style-spezifische Größenbestimmung. Das bedeutet, dass du jetzt deine Rahmengröße aufgrund deines Fahrstils wählen kannst, statt aufgrund deiner Beininnenlänge. Die Erklärung ist einfach: Zwei Fahrer können die gleiche Statur haben, aber völlig unterschiedliche Stile. Die verspielte Fahrerin, die mit ihrem Fahrrad über die Trails tänzelt, wird auf einem kleineren Fahrrad mehr Spaß haben. Der Fahrer, der mit hoher Geschwindigkeit über Felsen, Wurzeln und Bodenwellen bügelt, wird auf einem größeren Fahrrad mehr Stabilität finden.
---
Geometriedaten des S-Works Turbo Levo Framesets 2022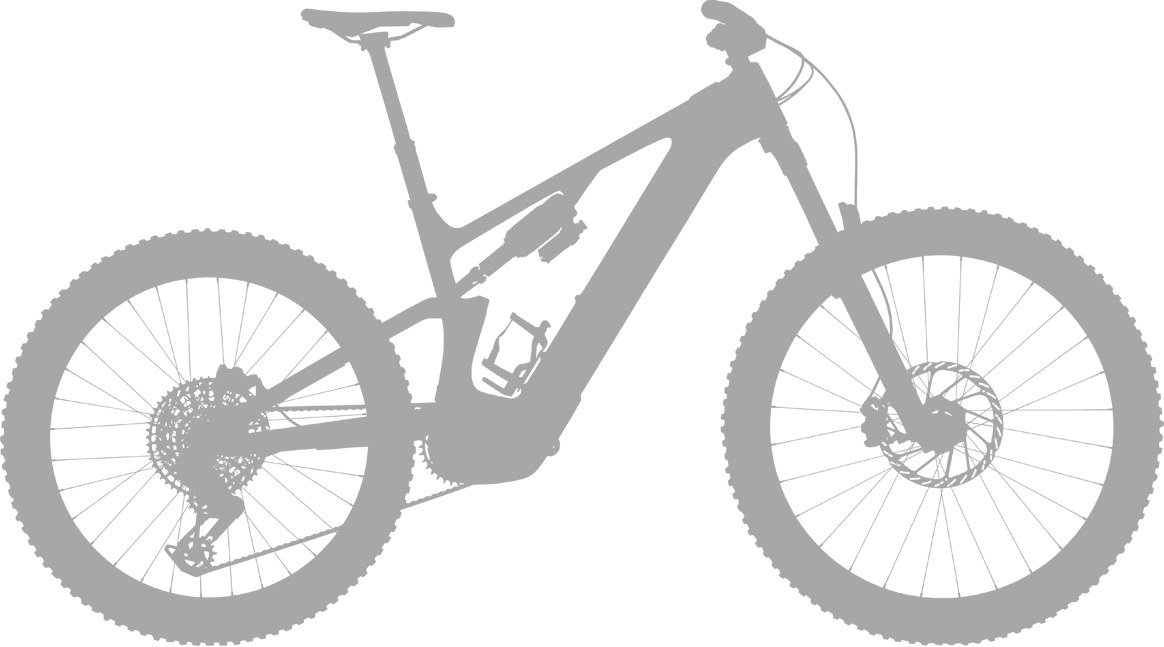 S1
S2
S3
S4
S5
S6
Kurbellänge
160mm
160mm
160mm
160mm
160mm
Stack
605mm
617mm
626mm
635mm
644mm
653mm
Reach
412mm
432mm
452mm
477mm
502mm
532mm
Steuerrohrlänge
105mm
105mm
115mm
125mm
135mm
145mm
Steuerrohrwinkel
64.5°
64.5°
64.5°
64.5°
64.5°
64.5°
Tretlagerhöhe
352mm
350mm
350mm
350mm
350mm
350mm
Tretlagerabsenkung
25mm
27mm
27mm
27mm
27mm
27mm
Nachlauf
130mm
130mm
130mm
130mm
130mm
130mm
Gabellänge (komplett)
557mm
567mm
567mm
567mm
567mm
567mm
Gabelversatz / Offset
44mm
44mm
44mm
44mm
44mm
44mm
Mitte Tretlager - Mitte V.-Achse
738mm
760mm
784mm
814mm
843mm
878mm
Kettenstreben-Länge
442mm
442mm
442mm
442mm
442mm
442mm
Radstand
1179mm
1200mm
1225mm
1255mm
1284mm
1318mm
Überstandshöhe
752mm
776mm
783mm
787mm
788mm
790mm
Sitzrohrlänge
380mm
390mm
405mm
425mm
445mm
465mm
Sitzrohrwinkel
78°
77.2°
76.7°
76.2°
76.2°
76.2°
Einschub Sattelstütze maximal
210mm
220mm
240mm
255mm
275mm
295mm
Einschub Sattelstütze minimal
80mm
80mm
80mm
80mm
80mm
80mm
Allgemeines
Marke: Giant
Modell: S-Works Turbo Levo Fahrradrahmen
---
Rahmenset
Rahmen: FACT 11m full carbon, 29" front wheel, 27.5" rear wheel, full internal cable routing, 148mm spacing, fully sealed cartridge bearings, 150mm of travel, geo adjust head tube, geo adjust horst pivot
Sattelstützklemme: Alloy, 38.6mm
---
Antrieb
Motor: Specialized 2.1, Custom Rx Trail Tuned Motor
Akku: Specialized M3-700, Integrated battery, 700Wh
Display: pecialized MasterMind TCU, percentage of remaining charge, 120 possible display configurations, MicroTune assist adjustment, over-the-air updates, ANT+/Bluetooth®, w/Handlebar remote
Steuergerät: RideControl GO + RideControl Ergo 3
Ladegerät: Custom charger, 42V4A w/ Rosenberger plug
Kabelbaum: Custom Specialized wiring harness
Kettenblätter: SRAM X-Sync Eagle, 104 BCD, 32T, steel
Kurbelgarnitur: Praxis Carbon M30, custom offset, 160mm
---
Fahrwerk
Dämpfer: FOX FLOAT X2 Factory, LSC, LSR, 2-position lever, 55x210mm, Kashima
---
Zubehör
---
Größentabelle
Produktbewertungen
Wir nutzen Trusted Shops als unabhängigen Dienstleister für die Einholung von Bewertungen. Trusted Shops hat Maßnahmen getroffen, um sicherzustellen, dass es sich um echte Bewertungen handelt.
Mehr Informationen*